Despite the many drastic changes in the world and school between 1996 and 2021, at Classical there has been at least one constant: Mr. Rustigian. In the span of those 25 years, Mr. Rustigian, history teacher, Department Head, union spokesperson, coach of both Mock Trial and Academic Decathlon, has been a staple in our school. His taste in music, strong principles, and sarcastic jokes have become familiar to the droves of students that have passed through his classroom. However, this is the year that we must say goodbye and wish Mr. Rustigian a happy retirement.
Mr. Rustigian's interest in history began with his grandfather. "My grandfather used to always give me books, a lot of them picture books, like archaeology books and history books." Despite an early interest in history and an affinity for it in high school, Mr. Rustigian didn't find his interest in teaching until later on. "I worked in retail and I drove a tractor trailer. Had a coffee truck and all kinds of stuff." It was only after visiting a career planning counselor at URI who suggested teaching that he considered the career. "And I went and started doing it, and it was great," says Mr. Rustigian.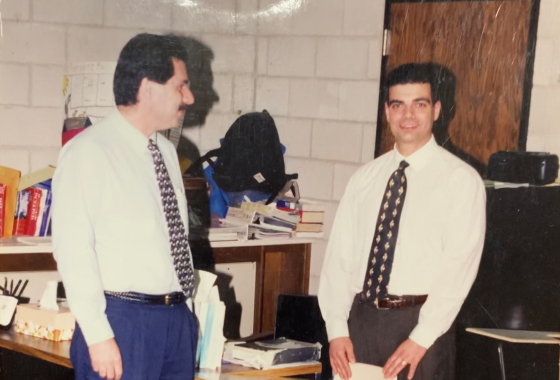 A photo of Mr. Rustigian and Mr. DiRissio from when they were new at Classical, courtesy of Mr. DiRissio.
Mr. Rustigian first began teaching English in North Providence in 1988, from which he moved to Nathan Bishop to teach English and History. He arrived at Classical in February of 1996 where he picked up mid-year as AP U.S. History teacher. The transition was "difficult," according to Mr. Rustigian, but he had always believed that he was "suited to more academic, college prep stuff." Mr. DiRissio, who arrived at Classical before Mr. Rustigian, says he "gained the respect of students in terms of the way he managed his class and his command over the material."
Despite his notable teaching skill, Mr. Rustigian's peers often emphasize his sense of humor and wit. "He's got a very dry sense of humor. Very, very dry," says history teacher and Department Head Mr. Caccia. Caccia was both Mr. Rustigian's student during the 2002-2003 school year and then later his colleague. And Mr. Macksoud says, "He had tremendous wit and satire." When asked about his favorite part of teaching, Mr. Rustigian readily reflects such sentiments, stating he enjoyed "friendly annoyance, pretending to say no, and standing out in the hallways with Mr. Caccia and annoying the children as they came in."
His humor is part of what made him a great teacher. According to Mr. DiRissio, much of his humor centered around history and "satirical, present critiques" that related to his lessons. "He is a great teacher, who cultivated my passion for history and the social studies," says Mr. Caccia. "I liked to teach through provocative statements and see where that goes," says Mr. Rustigian of his teaching style. When providing examples of his sense of humor, Mr. Rustigian demonstrates how he managed to blend humor and challenging questions in a way that pushed his students. "'Was Andrew Jackson a good guy?' I don't know. Do you think he was?" Numerous faculty members and students remark on his teaching style and its efficacy. "He was one of the only teachers who explicitly asked us to think," says Julia Birnbaum, of the Class of 2018. "He helped me become a deeper analytical thinker," says Mr. Caccia, reflecting on his time as a student in Mr. Rustigian's class.
In addition to his role as history teacher, Mr. Rustigian was deeply invested in the Classical community. Mr. Rustigian first began coaching Mock Trial in 2001 and continued on to coach Academic Decathlon, beginning in 2005. He coached both Academic Decathlon and Mock Trial consistently throughout his time at Classical. "Nobody wanted these jobs, by the way. I was the only applicant for Academic Decathlon and Mock Trial," he says of his coaching roles, which he enjoyed greatly. "As our coach before the pandemic, he was always willing to stay late after practice to help us perfect our Mock Trial arguments and delivery," says Dorothy Breen, Class of 2022.
Rustigian says Days of Decision by Phil Ochs sums up his view on speaking truth to power.
This passion for the community was also evident in his behavior around other teachers. In 2007, Mr. Rustigian was made Department Head as well, which he did on top of being the building delegate for the teacher's union at Classical. It was in these roles that Mr. Rustigian demonstrated his dedication to the other teachers at Classical. "He helped the teachers as much as the students," says Mr. Macksoud. Mr. Caccia echoes this: "He was obviously just a very dedicated Classical faculty member." Describing Mr. Rustigian's dedication to the staff beyond his duties as Department Head and union spokesperson, Mrs. LeClerc says, "The thing that I loved about Rustigian was that he gave the wallflowers time. He didn't ignore people. He came to you to talk to you, he would get up from his table to say hello. He talked to the quietest of us. He acknowledged our presence."
While students have learned much about U.S. History from Mr. Rustigian throughout his time here at Classical, when asked what advice he wanted to give students before leaving, it was "You have to at least state your opinion." In our nearly hour and a half long conservation, this theme recurred consistently. "Speak truth to power," he says. "You have to make a personal investment or institutions will go haywire." He added, "It would be pretty sad not to be able to challenge ideas. Exploring things and taking them apart is not always comfortable." Beyond the sarcastic jokes, the Simpsons poster, and even simply the facts about history that we were learning, this theme of resistance was prevalent throughout Mr. Rustigian's class. Mr. DiRissio calls this aspect of Mr. Rustigian's teaching "invaluable." In many ways the philosophy that Mr. Rustigian imparted upon his students can be summed up in a single quote that he had hanging on his wall:
"There's a time when the operation of the machine becomes so odious, makes you so sick at heart, that you can't take part! You can't even passively take part! And you've got to put your bodies upon the gears and upon the wheels … upon the levers, upon all the apparatus, and you've got to make it stop! And you've got to indicate to the people who run it, to the people who own it, that unless you're free, the machine will be prevented from working at all!" - Mario Savio 1964
When asked about his future plans, Mr. Rustigian says, in his typical humorous fashion, "I'm definitely working around my house and yard. It needs a lot of work. I'm pretty sure it won't be 10 or 15 years of cutting the grass, though." However, it is at Classical that his presence will be missed. Though he has been out of the building for a year teaching on the Virtual Learning Academy, his years as a teacher, and so much more, have had a profound impact on his students and colleagues. There are the bits of remembered lessons. "Mr. Rustigian's lesson on political ideologies using the analogy of people selling cows is one that I still refer to today," says Adira Altman, Class of 2021. And there are the more general life lessons. "He taught me how to work harder and smarter on things that are important to me," says Mary Breen, Class of 2018. No matter what kind of example people gave, it was clear that to both students and teachers Mr. Rustigian was a memorable part of their experience at Classical. "I'm sorry to see him retire," says Mr. Macksoud. "He was a man for all seasons. He doesn't change with the weather. He is true to himself. He is one of the most constant characters in terms of personalities," says Mrs. LeClerc. "I shall miss him," says Mr. DiRissio. "He has been a teacher, a mentor figure, a colleague, a friend, and in a lot of ways a father-figure," says Mr. Caccia.
Without Rustigian's dry humor, his deep knowledge of history, his love of the Simpsons, and, above all, his strong moral compass, Classical will be a dramatically different place. As he leaves, we must thank him for his ceaseless dedication to his work and those around him and wish him well during retirement. From all of Classical, thank you for the past 25 years, Mr. Rustigian, and good luck!